Ecotopia Biketour 2022

In the year 2022 we will be cycling for 3 months in the Netherlands, Belgium, Germany and France. We will start on the 3rd of July in Amsterdam with one-week of preparation camp. Then we cycle south towards Marseille and spend the last weeks along one of the most beautiful coasts of the Mediterranean Sea. A more detailed plan with what projects and festivals we'll visit on what days is available on our Route Page. 
As mentioned above the beginning of the tour (3rd to 24th July) will be a tour for FLINTA and LGBTQIA+, while hetero endo cis-male persons are asked not to join the tour. In this way we hope to achieve a fun and empowering biketour experience, which avoids one-sided masculinity. Also the idea is to develop the collective towards being more equally organised and represented by different gender orientations, instead of the imbalance towards the cis-male side, which has been a pattern on the tour and the orga the last years.
To explain the abbreviations: FLINTA stands for endo cis-Female, Lesbian, Intersexual, Non-binary, Transgender and Agender. LGBTQIA+ stands for Lesbian, Gay, Bisexual, Transgender, Queer, Intersexual, Asexual and those whose identity is not accurately captured by the before mentioned orientations (+).
If you have any questions, feel free to contact us. We hope to see you on the tour :)
---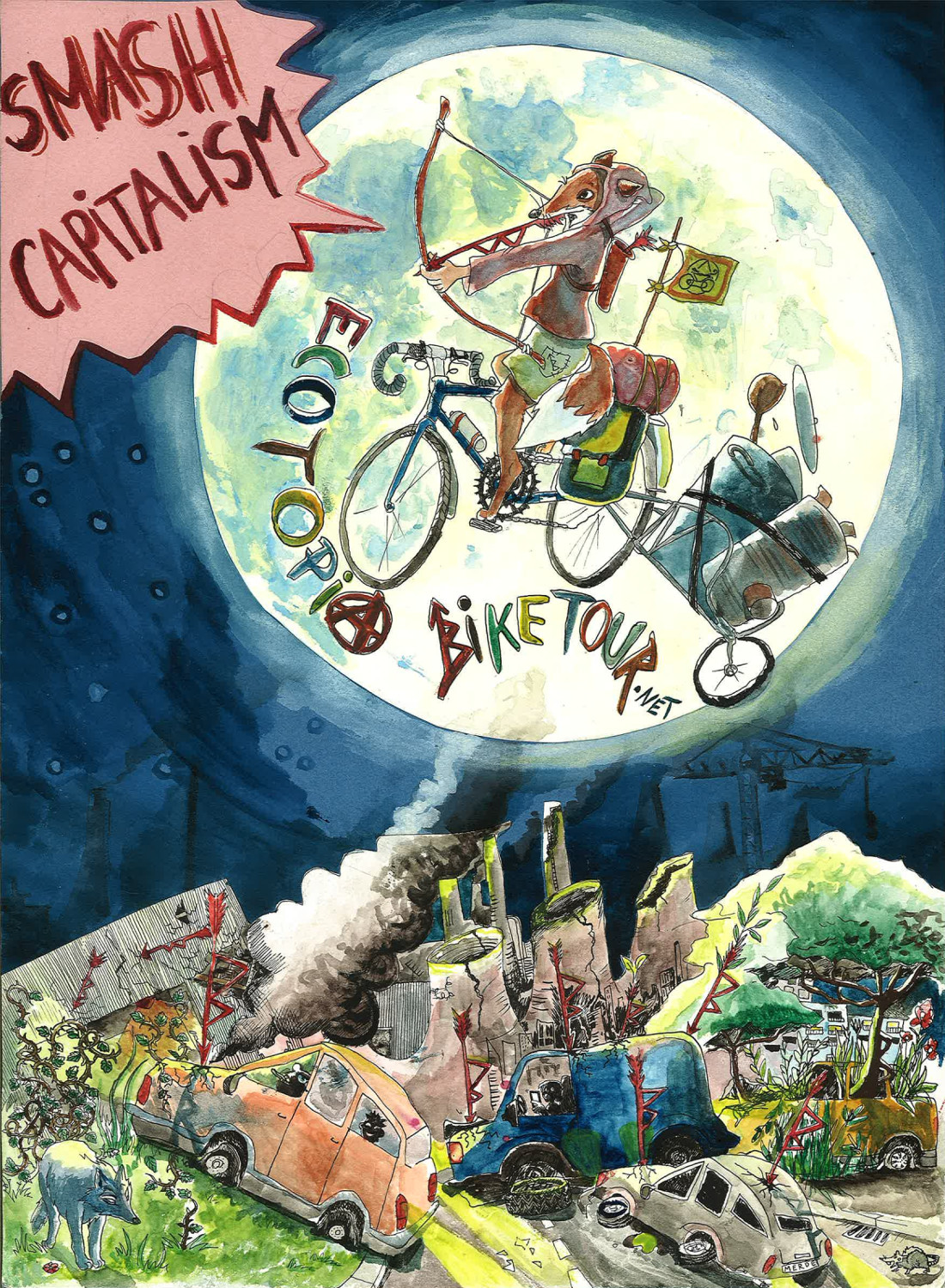 Ecotopia Biketour is a self-organized, international community that has been organizing a yearly bicycle tour in different regions of Europe since 1990. During the tour we visit environmental and social projects and practice forms of activism and sustainable living. We cook communal vegan food, practice consensus decision making, and share skills by doing workshops. One of our core values is to create a non-discriminatory environment. Participants are asked to give a voluntary contribution of 3–5 € per day to cover food costs, but if you cannot afford this you are welcome to join for free! Ecotopia Biketour is for anyone interested in travelling by bike, community life, DIY, an ecological lifestyle, and/or learning by experience. If this sounds good to you, feel welcome to join us!
We try to make the tour as inclusive as possible for any level of fitness or experience with bike touring. We cycle a maximum of 30–70 km per day (depending on the hills), and on average half of the days we stay in a place without cycling. Our experience is that almost everyone can manage this, but there is the possibility to shorten the distances if we discover that it is too much. People cycle in small groups or alone, at whatever speed suits them, and many people like to take it slow and take lots of breaks. A detailed route plan for the day is shared in the morning, arrows are drawn with chalk on the road at every turn, and if you get lost you can always call the Biketour phone. If you have a shitty bike, you will not be the only one, and we enjoy supporting each other if something breaks. We make sure that the last people to leave carry a toolbox, a phone and a first-aid kit in order to assist if anything goes wrong on the road.
Read more about what the Ecotopia Biketour is. If you would like to get an insight into the organisation or just ask a question, contact us.


Leaving Lyon was more difficult as expected. One of our trailer attachments had broken in half, and a shop selling this piece was not in sight. So some of us went to the construction store in the early morning to find anything that could be useful as a temporary solution, and just when we had succeeded improvising a replacement part, we realised that an important part of the trailer had actually broken apart and needed to be fixed as well. Navigating out of a big city is always difficult, and the Via Rhona long-distance cycle route along the river Rhône…