Ecotopía Biketour es una comunidad internacional autogestionada que organiza cada año una ruta en bici en diferentes regiones de Europa desde 1990. Durante la ruta visitamos proyectos sociales y medioambientales y practicamos formas de activismo y vida sostenible. Tenemos una dieta vegana, tomamos las decisiones por consenso y potenciamos el compartir nuestras habilidades. Este es uno de nuestros valores clave para crear un entorno no discriminatorio. Ecotopia Biketour es para todas las personas interesadas en viajar en bicicleta, en vida comunitaria, en autogestión, medioambiente y en aprender desde la propia experiencia. Lee más sobre lo que es la Ecotopia Biketour .
Ecotopia Biketour 2017 irá a través de Alemania, Francia, el este de España y quizás Suiza. Una ruta más específica será anunciada en la página web a mediados de marzo. Si tienes alguna recomendación para nosotr@s, sobre proyectos, grupos y eventos para visitar en la ruta, o te gustaría ayudarnos preparando la marcha, escríbenos a 2017(at)ecotopiabiketour(dot)net. Lee más acerca de Ecotopia Biketour 2017.
Registrations for the tour are open!
Reach us on the road by calling +49 157 84844802 or +33 751 065904.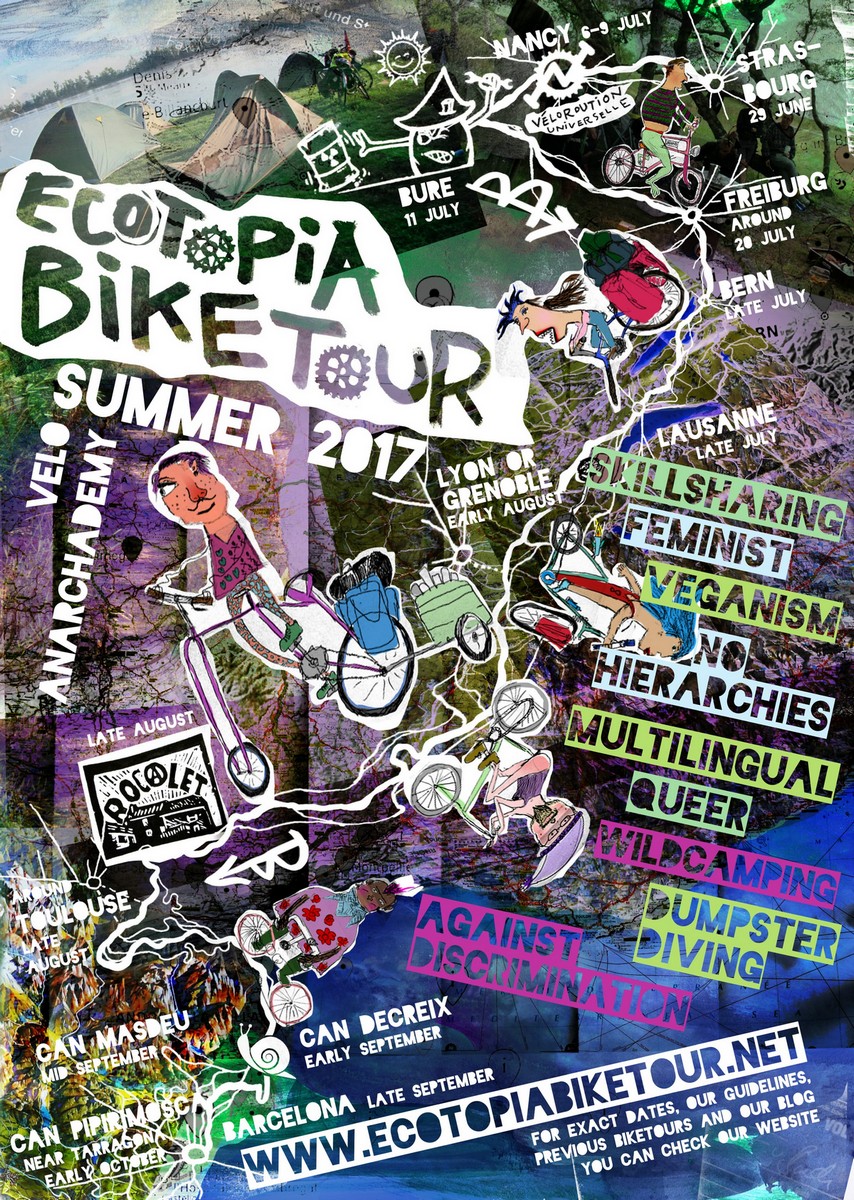 When a group of five ecotopians went outside the city of Issac (40KM away from Montpellier) and saw three adorable abandoned kittens hidden in  bush they didn't doubted and carried them on their bike, in a front basket covered by a wine box so they couldn't jump off, unsure about what would happen next. They arrived very late at the farm were we were staying overnight and some courageous catsitters spent a hard night listening to the meows of the scared and hungry kittens. Even though our hosts were not very excited about keeping one of the cats (because there…