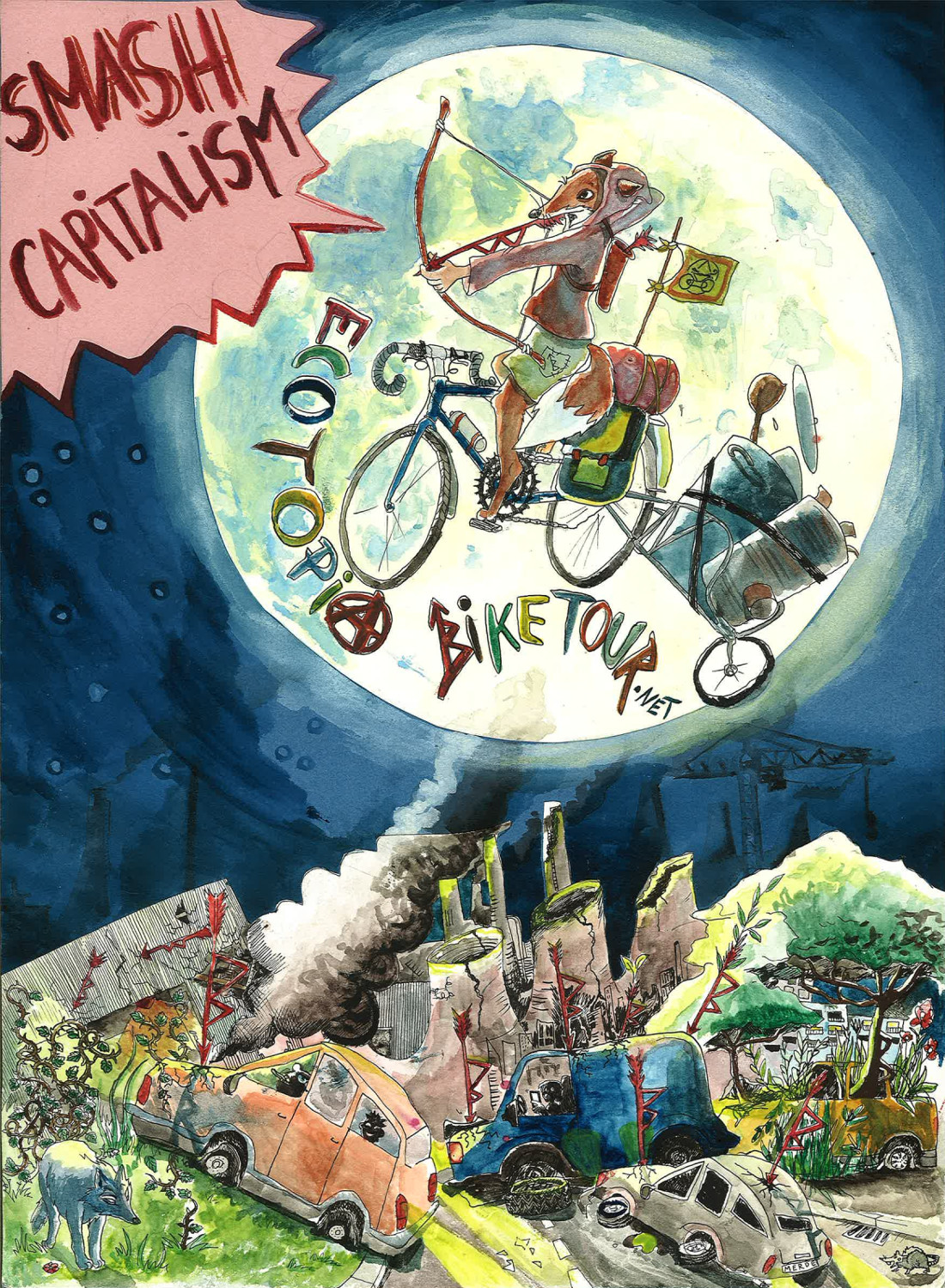 Ecotopía Biketour es una comunidad internacional autogestionada que organiza cada año una ruta en bici en diferentes regiones de Europa desde 1990. Durante la ruta visitamos proyectos sociales y medioambientales y practicamos formas de activismo y vida sostenible. Tenemos una dieta vegana, tomamos las decisiones por consenso y potenciamos el compartir nuestras habilidades. Este es uno de nuestros valores clave para crear un entorno no discriminatorio. Ecotopia Biketour es para todas las personas interesadas en viajar en bicicleta, en vida comunitaria, en autogestión, medioambiente y en aprender desde la propia experiencia.
Lee más sobre lo que es el Ecotopia Biketour.
Si estas pensando en unirte, permanece atento a las actualizaciones de esta pagina. En caso de que ademas quieras ayudar con la organizacion del biketour, escribenos a traves del formulario de contacto.
---
Ecotopia Biketour 2021
In the year 2021 we will be cycling for 2½ months in Czech republic, Austria, Slovenia and Croatia. We will start on the 9th of July in Prague with one-week of preparation camp and cycle south towards Linz to join the bike festival Cyclocamp (July 30 – August 8), then going east crisscrossing Danube towards Vienna. We will then continue south admiring the Alps, visiting Graz, Ljubljana, pass by Zagreb, eventually navigate westwards and cycle to the Adriatic for a final swim.

You can check the route page for more detailed route plan or register as a participant!
Also now you can reach us on the phone: ⁨+43 660 9628049 (signal,telegram)
If you have some questions or have recommendations for projects, groups and events for us to visit on the way, please write to info@ecotopiabiketour.net


On our first cycling day we left Prague to go Northwest to a farm with alternative people called Mlyn, where we camped on a field full of edible plants equipped with a teepee! We finished our rocket stove with the material help from the place. We also went to a lake under the local castle ruin that turned out to be just a field of reed so instead of swimming we had a discussion about how to facilitate a biketour circle. On the second evening a person from the house took us to a village for a taste of local…