Ecotopia Biketour 2022

In the year 2022 we will be cycling for 3 months in the Netherlands, Belgium, Germany and France. We will start on the 3rd of July in Amsterdam with one-week of preparation camp. Then we cycle south towards Marseille and spend the last weeks along one of the most beautiful coasts of the Mediterranean Sea. A more detailed plan with what projects and festivals we'll visit on what days is available on our Route Page. 
As mentioned above the beginning of the tour (3rd to 24th July) will be a tour for FLINTA and LGBTQIA+, while hetero endo cis-male persons are asked not to join the tour. In this way we hope to achieve a fun and empowering biketour experience, which avoids one-sided masculinity. Also the idea is to develop the collective towards being more equally organised and represented by different gender orientations, instead of the imbalance towards the cis-male side, which has been a pattern on the tour and the orga the last years.
To explain the abbreviations: FLINTA stands for endo cis-Female, Lesbian, Intersexual, Non-binary, Transgender and Agender. LGBTQIA+ stands for Lesbian, Gay, Bisexual, Transgender, Queer, Intersexual, Asexual and those whose identity is not accurately captured by the before mentioned orientations (+).
If you have any questions, feel free to contact us. We hope to see you on the tour :)
---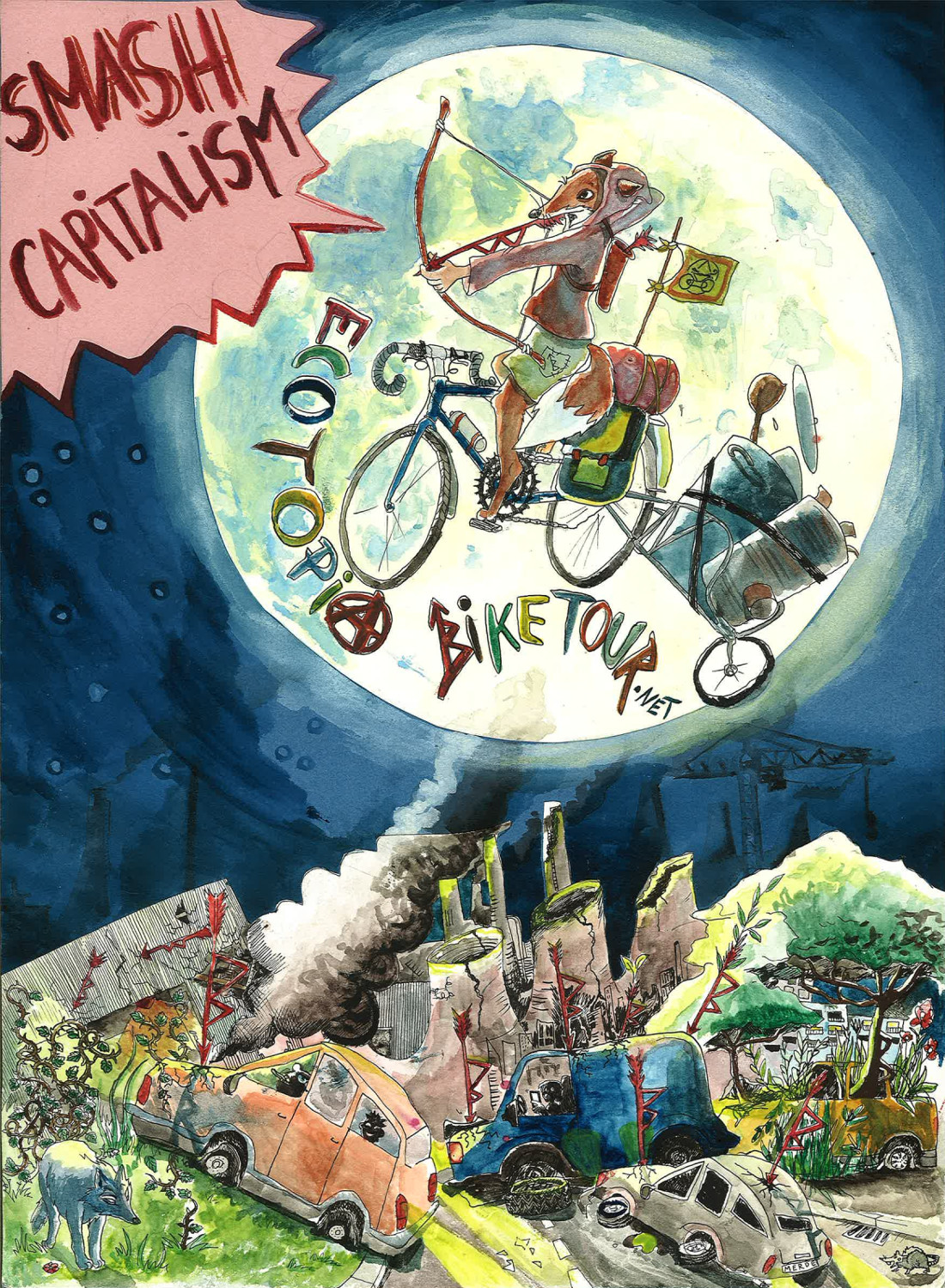 Ecotopía Biketour es una comunidad internacional autogestionada que organiza cada año una ruta en bici en diferentes regiones de Europa desde 1990. Durante la ruta visitamos proyectos sociales y medioambientales y practicamos formas de activismo y vida sostenible. Tenemos una dieta vegana, tomamos las decisiones por consenso y potenciamos el compartir nuestras habilidades. Este es uno de nuestros valores clave para crear un entorno no discriminatorio. Ecotopia Biketour es para todas las personas interesadas en viajar en bicicleta, en vida comunitaria, en autogestión, medioambiente y en aprender desde la propia experiencia.
Lee más sobre lo que es el Ecotopia Biketour.
Si estas pensando en unirte, permanece atento a las actualizaciones de esta pagina. En caso de que ademas quieras ayudar con la organizacion del biketour, escribenos a traves del formulario de contacto.


Leaving Lyon was more difficult as expected. One of our trailer attachments had broken in half, and a shop selling this piece was not in sight. So some of us went to the construction store in the early morning to find anything that could be useful as a temporary solution, and just when we had succeeded improvising a replacement part, we realised that an important part of the trailer had actually broken apart and needed to be fixed as well. Navigating out of a big city is always difficult, and the Via Rhona long-distance cycle route along the river Rhône…