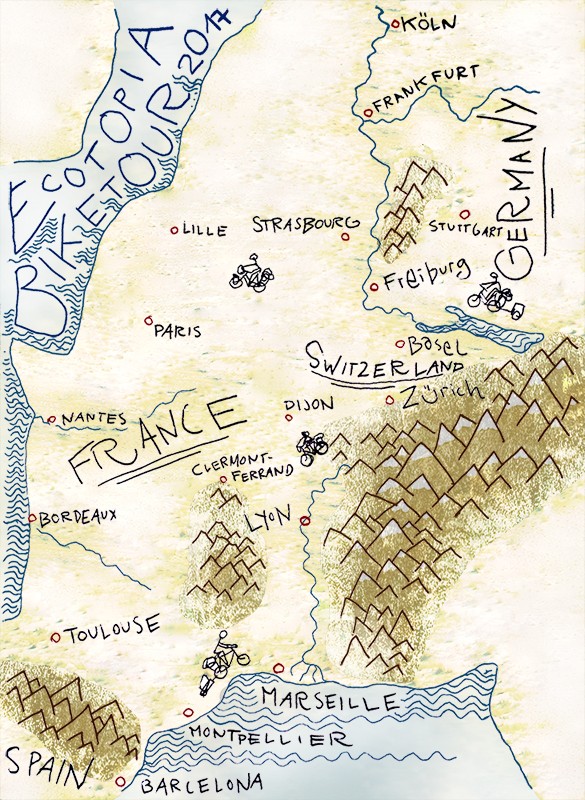 Ecotopía Biketour es una comunidad internacional autogestionada que organiza cada año una ruta en bici en diferentes regiones de Europa desde 1990. Durante la ruta visitamos proyectos sociales y medioambientales y practicamos formas de activismo y vida sostenible. Tenemos una dieta vegana, tomamos las decisiones por consenso y potenciamos el compartir nuestras habilidades. Este es uno de nuestros valores clave para crear un entorno no discriminatorio. Ecotopia Biketour es para todas las personas interesadas en viajar en bicicleta, en vida comunitaria, en autogestión, medioambiente y en aprender desde la propia experiencia. Lee más sobre lo que es la Ecotopia Biketour .
Ecotopia Biketour 2017 irá a través de Alemania, Francia, el este de España y quizás Suiza. Una ruta más específica será anunciada en la página web a mediados de marzo. Si tienes alguna recomendación para nosotr@s, sobre proyectos, grupos y eventos para visitar en la ruta, o te gustaría ayudarnos preparando la marcha, escríbenos a 2017(at)ecotopiabiketour(dot)net. Lee más acerca de Ecotopia Biketour 2017.
https://vimeo.com/199732250
But also we realised, that so far, filming wasn't considered in our photosharing-concept. For some people it is a big difference whether they are filmed and then appear online or if it's just photos of them. So we added another option about filming to the sheet, that is passed around during the tour.