Le cyclo-tour Ecotopia est un tour à vélo autogéré organisé depuis 1990 chaque année par un collectif international à travers l'Europe. Pendant le cyclo-tour, nous visitons des projets et lieux qui s'attaquent aux problemes environnementaux et sociaux, et pratiquent du militantisme/activisme et/ou des formes de vie respectueuse de l'environnement. Le tour est vegan, les décisions se font au consensus et nous souhaitons autant que possible organiser des ateliers de transmissions. Le cyclo-tour Ecotopia s'adresse à quiconque est interessé.e par l'idée de voyager à vélo, vivre en communauté, bricoler/DIY, se poser des questions environnementales et apprendre par l'expérience. Lire plus de ce qu'est l'Ecotopia Biketour.
Le cyclo-tour 2017 va se passer en Allemagne, France et peut-être en Suisse et l'est d'Éspagne. La route sera annoncé en mi-mars. Si vous avez des recommendations pour des projets, des groupes ou des événements à visiter sur le chemin, ou si vous souhaitez aider dans l'organisation du tour, merci d'écrire à 2017(at)ecotopiabiketour(dot)net. Plus sur l'Ecotopia Biketour 2017.
Registrations for the tour are open!
Reach us on the road by calling +49 157 84844802 or +33 751 065904.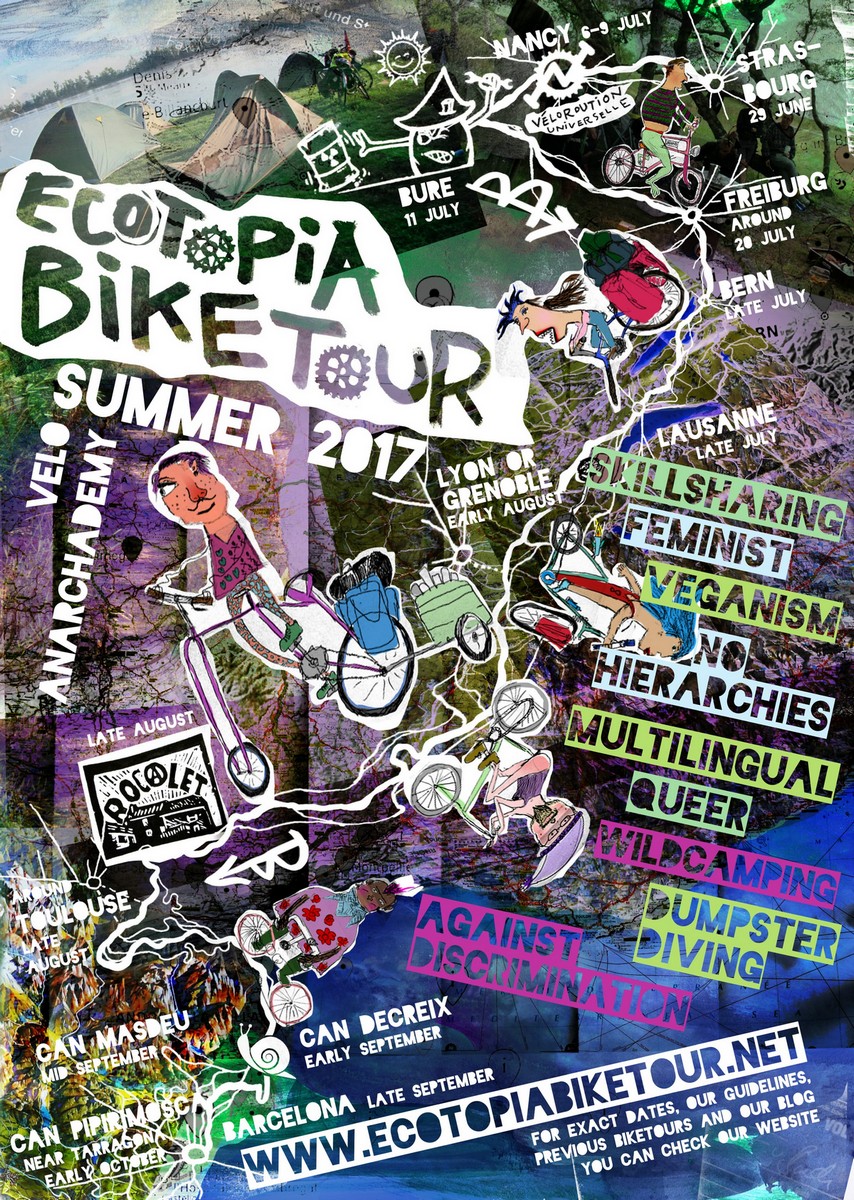 Leaving Freiburg, we cycled switftly along the Rhine to Basel and crossed the border into Switzerland. It is the first time that the Biketour visits Switzerland, it hasn't ever been there in 27 years. We expected beautiful landscapes and good roads, expensive shops but full dumpsters. The first two days in Switzerland were hard. We had to cross the Jura mountains and took mostly small roads which were very steep, but the landscapes and villages were beautiful. The first night we slept on a lawn just outside a small town, next to a garage for repairing cars and a small…