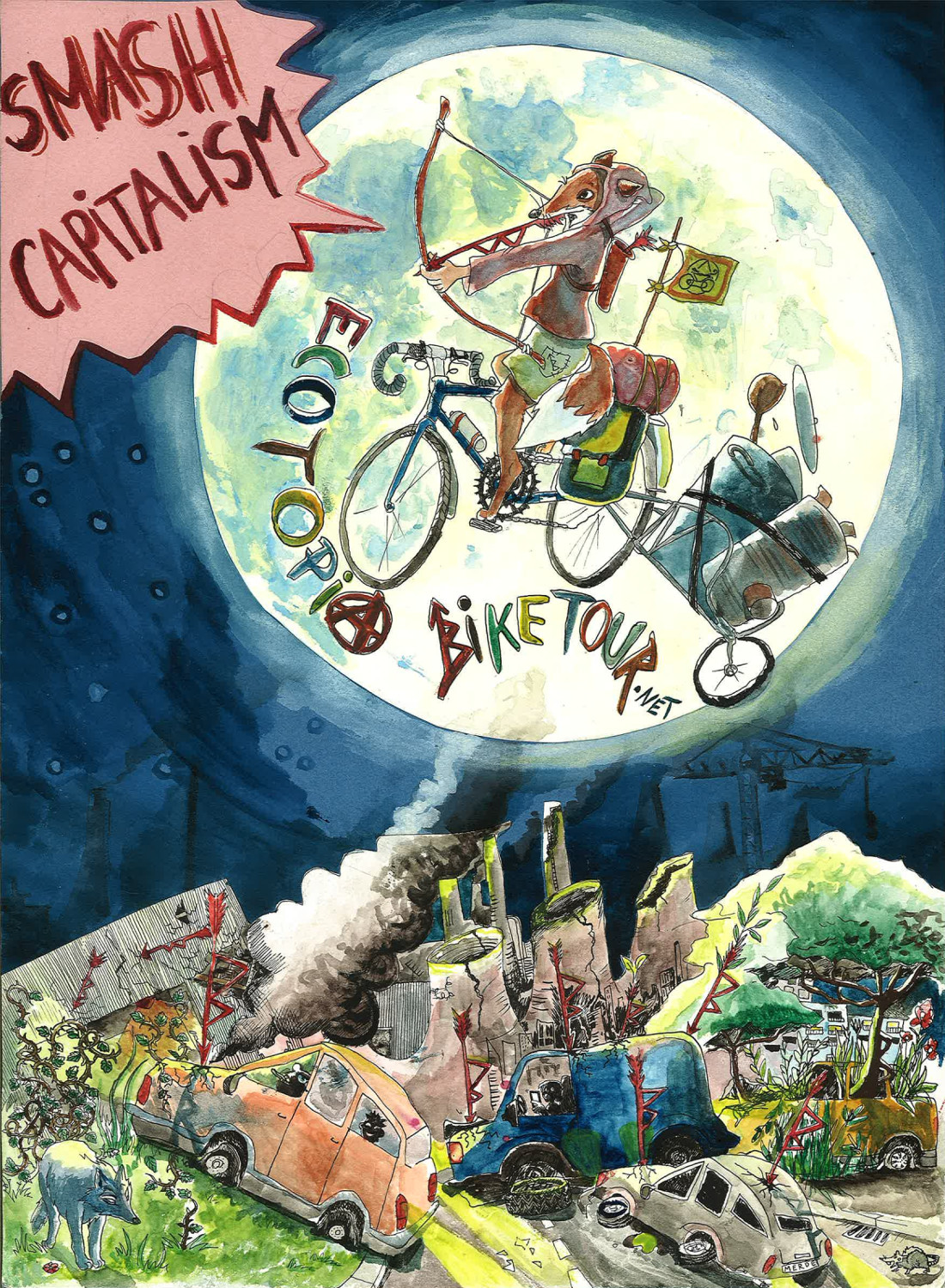 This year would have been the 30th birthday of Ecotopia Biketour (1990-2020). However due to the Covid-19 pandemic we have decided to cancel it.
In our internal organisation we all agreed that it would be impossible to keep the tour as it was planned during the winter meeting: to start from Prague until Timişoara, crossing the territories of so-called Czechia, Slovakia, Austria, Slovenia, Croatia, Bosnia-Herzegovina, Serbia and Romania; due to actual border situation, health measures, political situations and still future uncertainty. Most probably some borders will still (or again) be closed, making the accessibility to Biketour not completely inclusive. This and the fact that we want to contribute in the global health and to be aware of the privilege of many of us to be healthy and be able to move over borders, let us rething our priorities.
However, we want to keep the Ecotopia community alive until next summer. For that reason you are welcome to organize local biketours or to use what you learned traveling with us when joining one. We are offering the Ecotopia tools:
Ecotopia as a name or brand and our guidelines
Networking tools: mailing lists, our jitsi server and open collaborative documents
Facilmap app to organise your routes
Border situation update document (lets keep it updated for everybody!)
Page to share different local biketours and Ecotopia blog
Biketour stickers and the timeless poster (if you are interested in them, send us an email!)
For more info, visit the 2020 page.
And please stay safe and be aware of sanitary measures. Good bike!
Le cyclo-tour Ecotopia est un tour à vélo autogéré organisé depuis 1990 chaque année par un collectif international à travers l'Europe. Pendant le cyclo-tour, nous visitons des projets et lieux qui s'attaquent aux problemes environnementaux et sociaux, et pratiquent du militantisme/activisme et/ou des formes de vie respectueuse de l'environnement. Le tour est vegan, les décisions se font au consensus et nous souhaitons autant que possible organiser des ateliers de transmissions. Le cyclo-tour Ecotopia s'adresse à quiconque est interessé.e par l'idée de voyager à vélo, vivre en communauté, bricoler/DIY, se poser des questions environnementales et apprendre par l'expérience. Lire plus de ce qu'est l'Ecotopia Biketour.


Hello riders, A few of us are embarking on a decentralized bike tour in France this summer! We will be meeting in Creuse on July 27th and explore some of the nearby regions (Creuse, Auvergne). The main part of the tour will last until the end of August. We are in the process of forming a group to start (or join) an intentional community, so this trip will be a way to look for places and opportunities and also to spend a lot of time together to discuss our common vision. This is not a replacement for Ecotopia but many…