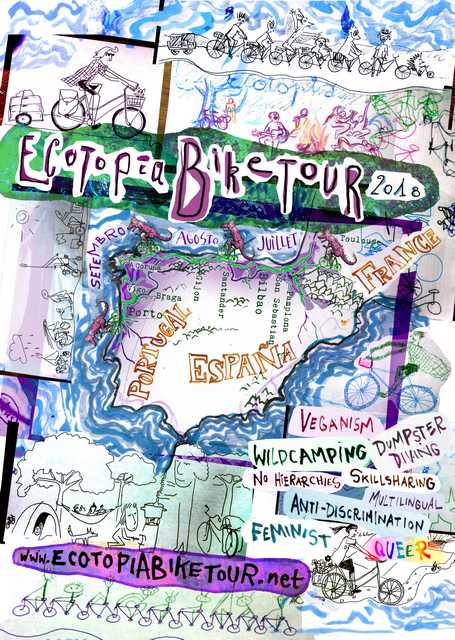 Ecotopia Biketour is a self-organized, international community that has been organizing a yearly bicycle tour in different regions of Europe since 1990. During the tour we visit environmental and social projects and practice forms of activism and sustainable living. We cook communal vegan food, practice consensus decision making, and share skills by doing workshops. One of our core values is to create a non-discriminatory environment. Ecotopia Biketour is for anyone interested in travelling by bike, community life, DIY, an ecological lifestyle, and/or learning by experience. If this sounds good to you, feel welcome to join us!
Read more about what the Ecotopia Biketour is.
This year our theme is "Reclaim the Fields". Starting the 28th of June in Pamplona/Iruña, in July and August we will follow the northern coast of the Iberian Peninsula until Porto (early September). In the end, we will head in direction of Salamanca to join the Reclaim the Fields camp (2nd half of September).


It's often useful to have plenty of loading options on your bike. So when you find loads of food in the dumpsters for example, you can easily take some and be a bit independent from trailers. It is actually pretty easy to attach a rear rack to the front of your bike. Rear racks can be very easily found in any bike kitchen. You just have to figure out the right size, that it doesn't touch the wheel. If it messes with your mudguard, you can also just remove it. The front mudguard anyways doesn't do much. You need to…