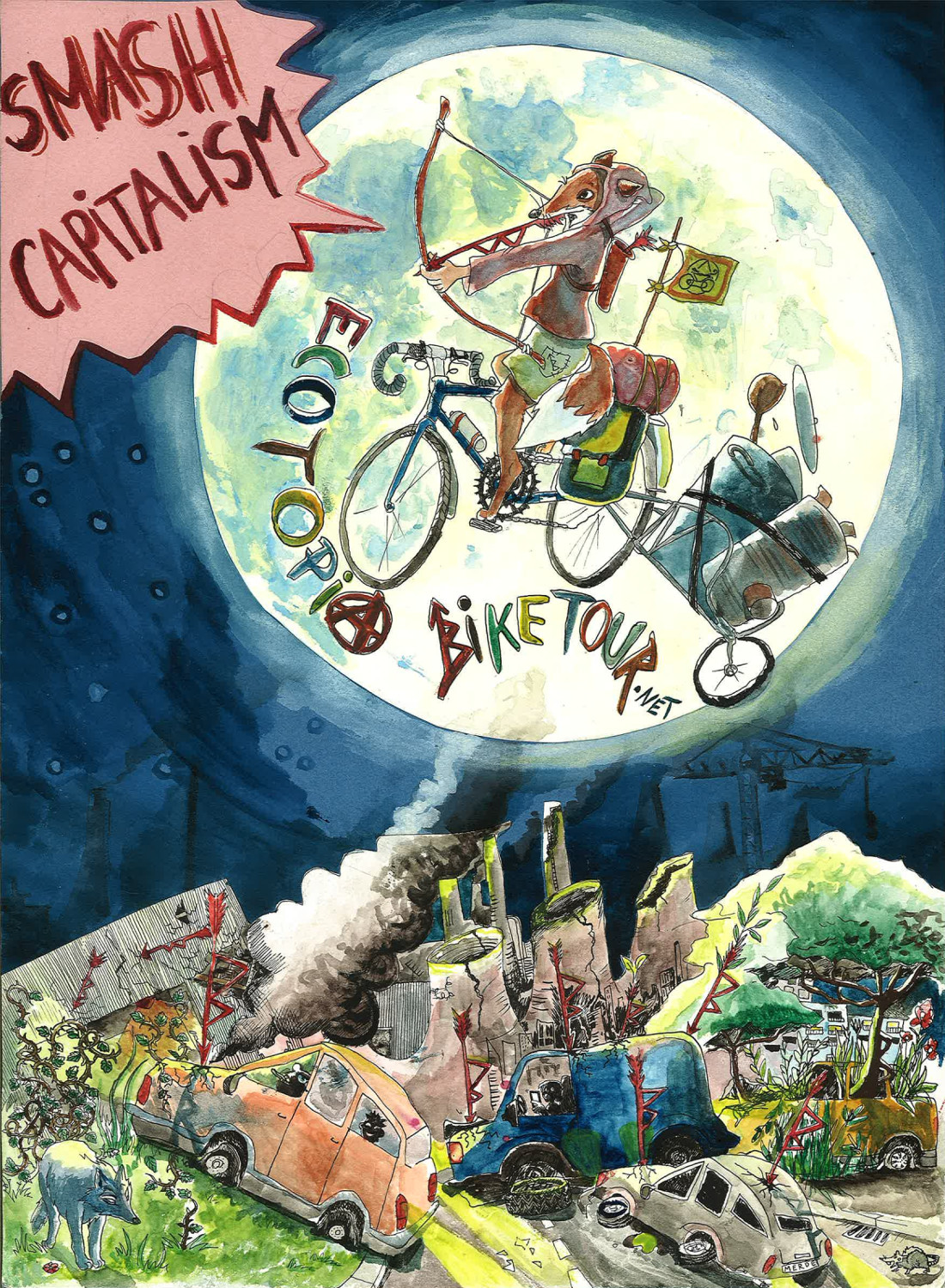 L'Ecotopia Biketour és una comunitat internacional autogestionada que organitza cada any una ruta en bicicleta per diferents regions d'Europa des del 1990. Durant la ruta, visitem projectes socials i medioambientals, alhora que practiquem formes d'activisme i vida sostenible. Tenim una dieta vegana, prenem les decisions per consens i potenciem el compartir les nostres habilitats. Aquest és un dels valors clau per crear un entorn no-discriminatori. L'Ecotopia Biketour és per totes les persones interessades en viatjar amb bicicleta, la vida comunitària, autogestió, mediambient i en aprendre a través de la pròpia experiència.
Més informació sobre l'Ecotopia Biketour
---
Ecotopia Biketour 2021
In the year 2021 we will be cycling for 2½ months in Czech republic, Austria, Slovenia and Croatia. We will start on the 9th of July in Prague with one-week of preparation camp and cycle south towards Linz to join the bike festival Cyclocamp (July 30 – August 8), then going east crisscrossing Danube towards Vienna. We will then continue south admiring the Alps, visiting Graz, Ljubljana, pass by Zagreb, eventually navigate westwards and cycle to the Adriatic for a final swim.

You can check the route page for more detailed route plan or register as a participant!
Also now you can reach us on the phone: ⁨+43 660 9628049 (signal,telegram)
If you have some questions or have recommendations for projects, groups and events for us to visit on the way, please write to info@ecotopiabiketour.net


On our first cycling day we left Prague to go Northwest to a farm with alternative people called Mlyn, where we camped on a field full of edible plants equipped with a teepee! We finished our rocket stove with the material help from the place. We also went to a lake under the local castle ruin that turned out to be just a field of reed so instead of swimming we had a discussion about how to facilitate a biketour circle. On the second evening a person from the house took us to a village for a taste of local…