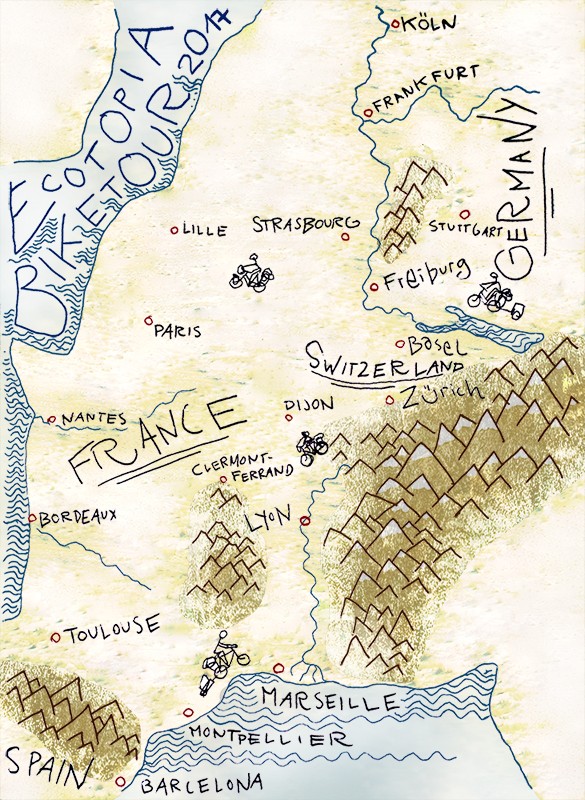 L'Ecotopia Biketour és una comunitat internacional autogestionada que organitza cada any una ruta en bicicleta per diferents regions d'Europa des del 1990. Durant la ruta, visitem projectes socials i medioambientals, alhora que practiquem formes d'activisme i vida sostenible. Tenim una dieta vegana, prenem les decisions per consens i potenciem el compartir les nostres habilitats. Aquest és un dels valors clau per crear un entorn no-discriminatori. L'Ecotopia Biketour és per totes les persones interessades en viatjar amb bicicleta, la vida comunitària, autogestió, mediambient i en aprendre a través de la pròpia experiència. Més informació sobre l'Ecotopia Biketour
L'Ecotopia Biketour 2017 anirà per Alemanya, França, l'est d'Espanya i potser Suïssa. Una ruta més específica s'anunciarà a la pàgina web a partir de mitjans de març. Si tens cap recomanació a fer-nos sobre projectes, grups i/o esdeveniments per visitar al llarg de la ruta, o si t'agradaria ajudar-nos a preparar-la, escriu-nos a 2017(at)ecotopiabiketour(dot)net. Més informació sobre l'Ecotopia Biketour de 2017.
https://vimeo.com/199732250
But also we realised, that so far, filming wasn't considered in our photosharing-concept. For some people it is a big difference whether they are filmed and then appear online or if it's just photos of them. So we added another option about filming to the sheet, that is passed around during the tour.