L'Ecotopia Biketour és una comunitat internacional autogestionada que organitza cada any una ruta en bicicleta per diferents regions d'Europa des del 1990. Durant la ruta, visitem projectes socials i medioambientals, alhora que practiquem formes d'activisme i vida sostenible. Tenim una dieta vegana, prenem les decisions per consens i potenciem el compartir les nostres habilitats. Aquest és un dels valors clau per crear un entorn no-discriminatori. L'Ecotopia Biketour és per totes les persones interessades en viatjar amb bicicleta, la vida comunitària, autogestió, mediambient i en aprendre a través de la pròpia experiència. Més informació sobre l'Ecotopia Biketour
L'Ecotopia Biketour 2017 anirà per Alemanya, França, l'est d'Espanya i potser Suïssa. Una ruta més específica s'anunciarà a la pàgina web a partir de mitjans de març. Si tens cap recomanació a fer-nos sobre projectes, grups i/o esdeveniments per visitar al llarg de la ruta, o si t'agradaria ajudar-nos a preparar-la, escriu-nos a 2017(at)ecotopiabiketour(dot)net. Més informació sobre l'Ecotopia Biketour de 2017.
Registrations for the tour are open!
Reach us on the road by calling +49 157 84844802 or +33 751 065904.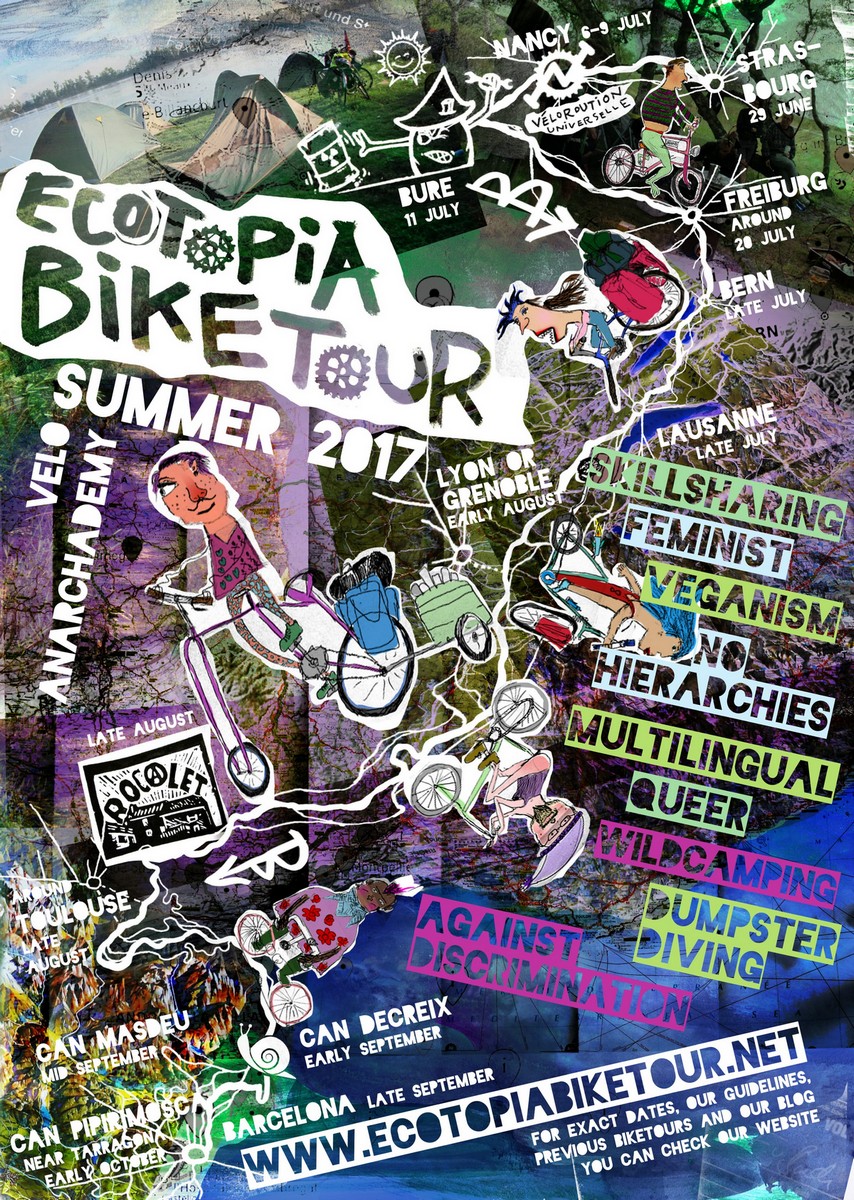 Leaving Freiburg, we cycled switftly along the Rhine to Basel and crossed the border into Switzerland. It is the first time that the Biketour visits Switzerland, it hasn't ever been there in 27 years. We expected beautiful landscapes and good roads, expensive shops but full dumpsters. The first two days in Switzerland were hard. We had to cross the Jura mountains and took mostly small roads which were very steep, but the landscapes and villages were beautiful. The first night we slept on a lawn just outside a small town, next to a garage for repairing cars and a small…