Ecotopia Biketour ist eine selbstorganisierte internationale Community, die seit 1990 eine jährliche Fahrradtour durch Europa organisiert. Auf der Tour werden soziale und ökologische Projekte besucht und verschiedene Arten von Aktivismus und nachhaltigem Zusammenleben praktiziert. Wir ernähren uns vegan, treffen Entscheidungen per Konsens und versuchen, unser Wissen zu teilen. Es ist einer unserer zentralen Werte, ein diskriminierungsfreies Umfeld zu schaffen. Die Biketour ist für alle, die am Fahrradfahren, gemeinschaftlichen Zusammenleben, Selbstorganisation, Nachhaltigkeit und praktischen Lernen interessiert sind. Mehr darüber, was die Ecotopia Biketour ist.
Die Biketour 2017 wird in Deutschland, Frankreich und vielleicht in der Schweiz und im Osten Spaniens stattfinden. Mitte März wird die Route auf der Website angekündigt. Falls ihr Empfehlungen für Projekte, Gruppen und Ereignisse habt, die wir auf dem Weg besuchen sollten, oder wenn ihr mithelfen wollt, die Tour vorzubereiten, schreibt uns an 2017(at)ecotopiabiketour(dot)net. Mehr über die Ecotopia Biketour 2017.
Registrations for the tour are open!
Reach us on the road by calling +49 157 84844802 or +33 751 065904.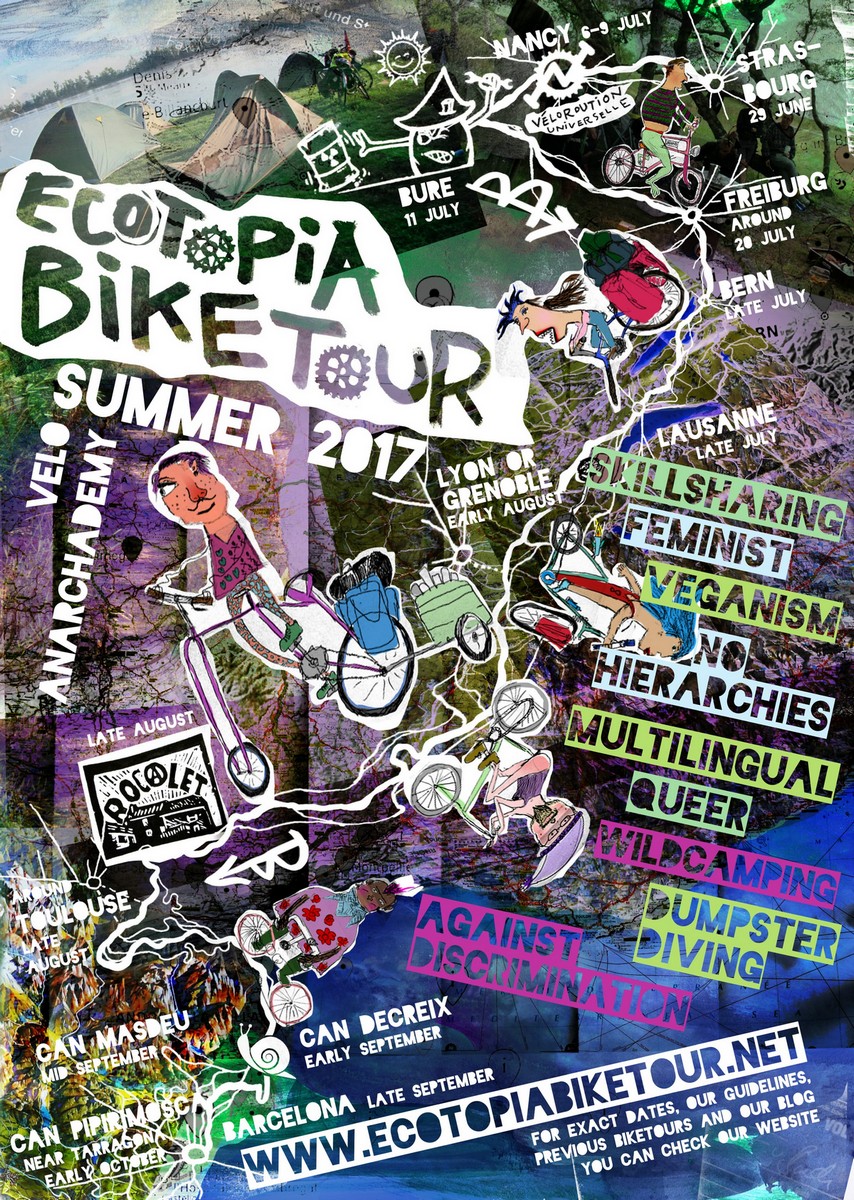 When a group of five ecotopians went outside the city of Issac (40KM away from Montpellier) and saw three adorable abandoned kittens hidden in  bush they didn't doubted and carried them on their bike, in a front basket covered by a wine box so they couldn't jump off, unsure about what would happen next. They arrived very late at the farm were we were staying overnight and some courageous catsitters spent a hard night listening to the meows of the scared and hungry kittens. Even though our hosts were not very excited about keeping one of the cats (because there…