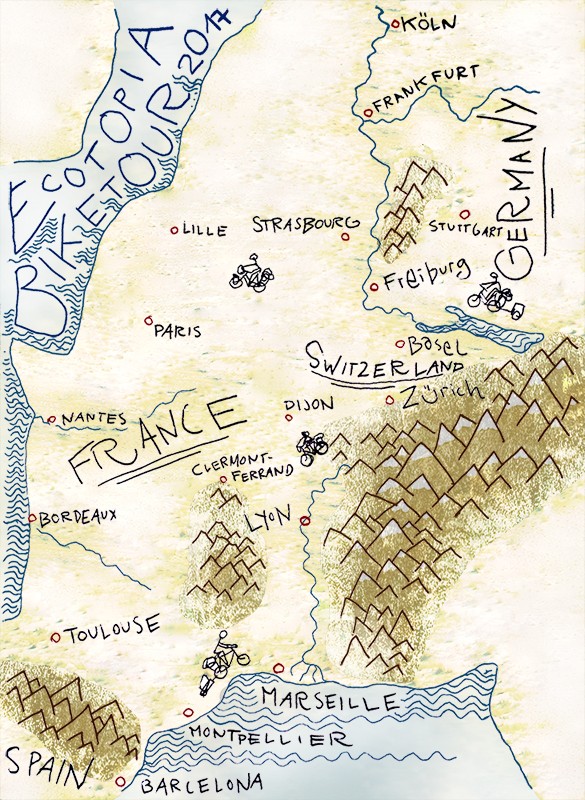 Ecotopia Biketour ist eine selbstorganisierte internationale Community, die seit 1990 eine jährliche Fahrradtour durch Europa organisiert. Auf der Tour werden soziale und ökologische Projekte besucht und verschiedene Arten von Aktivismus und nachhaltigem Zusammenleben praktiziert. Wir ernähren uns vegan, treffen Entscheidungen per Konsens und versuchen, unser Wissen zu teilen. Es ist einer unserer zentralen Werte, ein diskriminierungsfreies Umfeld zu schaffen. Die Biketour ist für alle, die am Fahrradfahren, gemeinschaftlichen Zusammenleben, Selbstorganisation, Nachhaltigkeit und praktischen Lernen interessiert sind. Mehr darüber, was die Ecotopia Biketour ist.
Die Biketour 2017 wird in Deutschland, Frankreich und vielleicht in der Schweiz und im Osten Spaniens stattfinden. Mitte März wird die Route auf der Website angekündigt. Falls ihr Empfehlungen für Projekte, Gruppen und Ereignisse habt, die wir auf dem Weg besuchen sollten, oder wenn ihr mithelfen wollt, die Tour vorzubereiten, schreibt uns an 2017(at)ecotopiabiketour(dot)net. Mehr über die Ecotopia Biketour 2017.
https://vimeo.com/199732250
But also we realised, that so far, filming wasn't considered in our photosharing-concept. For some people it is a big difference whether they are filmed and then appear online or if it's just photos of them. So we added another option about filming to the sheet, that is passed around during the tour.