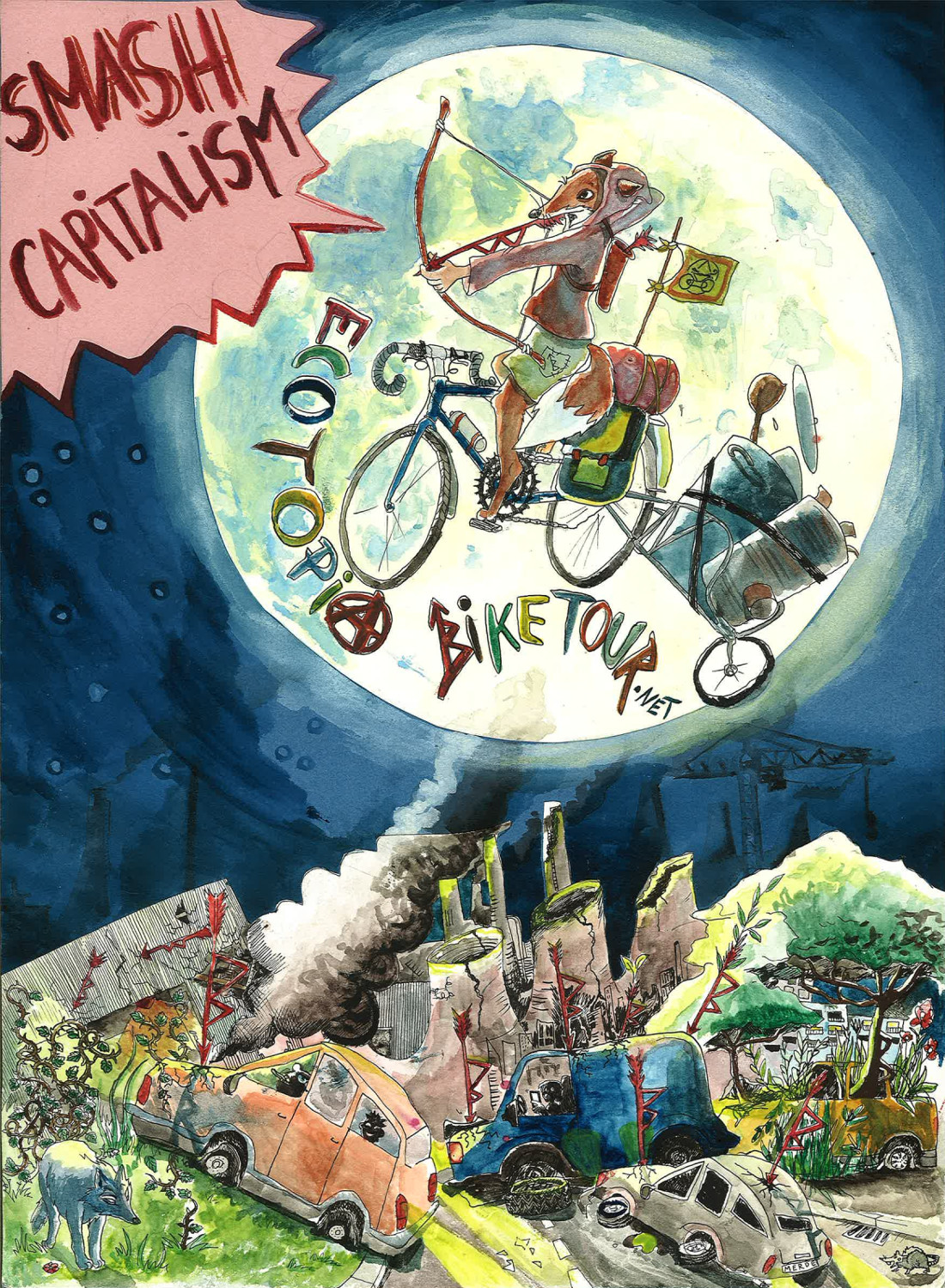 Ecotopia Biketour ist eine selbstorganisierte internationale Community, die seit 1990 eine jährliche Fahrradtour durch Europa organisiert. Auf der Tour werden soziale und ökologische Projekte besucht und verschiedene Arten von Aktivismus und nachhaltigem Zusammenleben praktiziert. Wir ernähren uns vegan, treffen Entscheidungen per Konsens und versuchen, unser Wissen zu teilen. Es ist einer unserer zentralen Werte, ein diskriminierungsfreies Umfeld zu schaffen. Die Biketour ist für alle, die am Fahrradfahren, gemeinschaftlichen Zusammenleben, Selbstorganisation, Nachhaltigkeit und praktischen Lernen interessiert sind.
Mehr darüber, was die Ecotopia Biketour ist.
Bei Interesse und Fragen schreibt uns über das Kontakformular.
---
Ecotopia Biketour 2021
Preparations for Ecotopia Biketour 2021 have started. At the beginning of June (4th to 6th) we are having our Spring Meeting. The location is not known yet (area Northern Italy, Austria or Switzerland).
The tour will be going through Italy, the Balkans, Slowenia, Austria and Czech Republic. The exact route is not defined yet. For a very rough route idea you can check out this link. We will soon publish more information here on our website. For earlier questions feel free to write us a mail.


Yes, we have started planning the 2021 Ecotopia Biketour. At this moment we can't say how vagabond-friendly this summer will be but let's hope we can push the pedals together again! At this stage we are planning a winter meeting in March in norther Italy or Switzerland and we want everybody who is eager to organise it to be able to join it either physically or virtually. Since the current pandemic situation is going against the possibility to meet easily all together in one place we are considering also a hybrid kind of a meeting where people could meet locally…