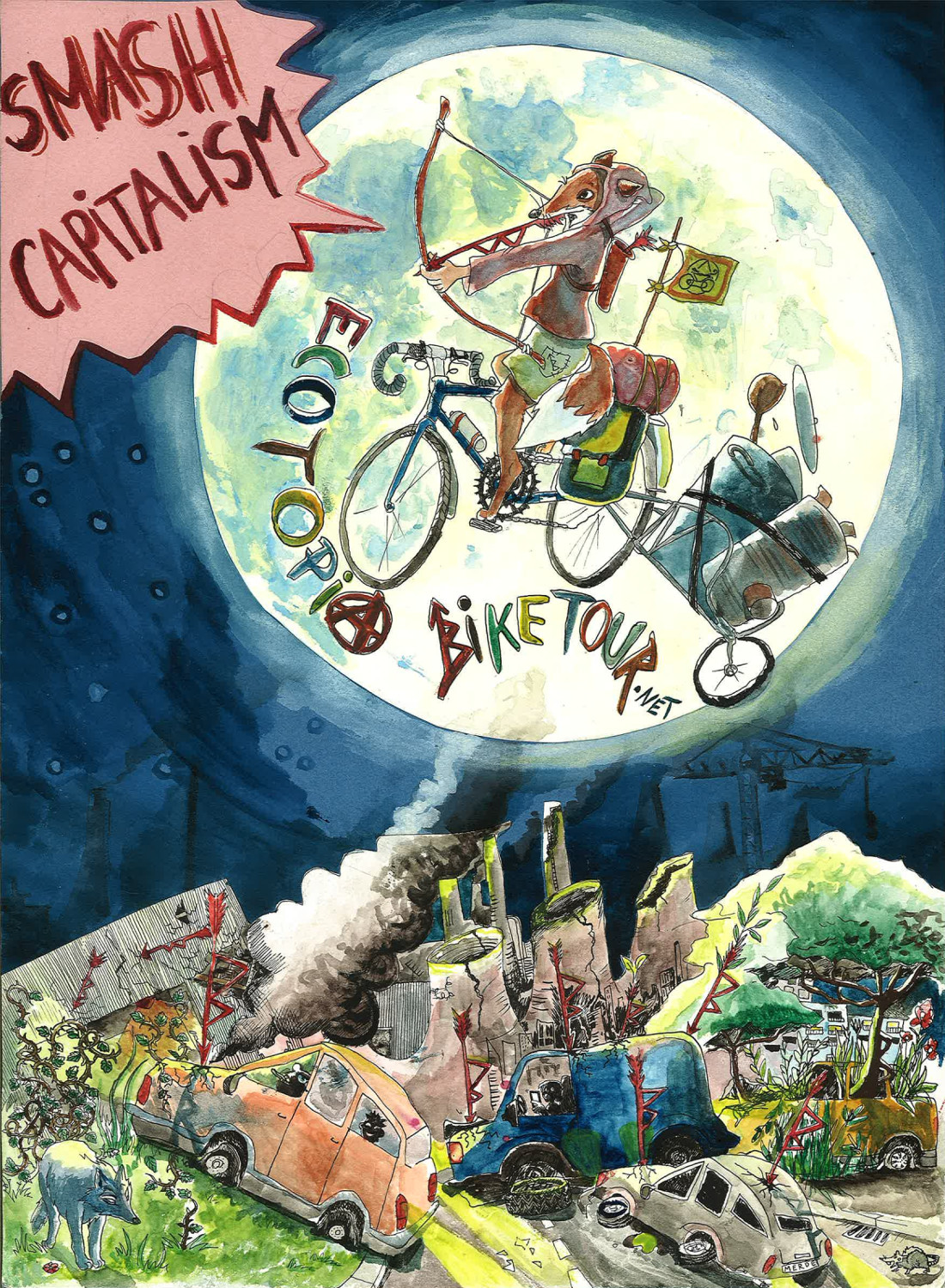 This year would have been the 30th birthday of Ecotopia Biketour (1990-2020). However due to the Covid-19 pandemic we have decided to cancel it.
In our internal organisation we all agreed that it would be impossible to keep the tour as it was planned during the winter meeting: to start from Prague until Timişoara, crossing the territories of so-called Czechia, Slovakia, Austria, Slovenia, Croatia, Bosnia-Herzegovina, Serbia and Romania; due to actual border situation, health measures, political situations and still future uncertainty. Most probably some borders will still (or again) be closed, making the accessibility to Biketour not completely inclusive. This and the fact that we want to contribute in the global health and to be aware of the privilege of many of us to be healthy and be able to move over borders, let us rething our priorities.
However, we want to keep the Ecotopia community alive until next summer. For that reason you are welcome to organize local biketours or to use what you learned traveling with us when joining one. We are offering the Ecotopia tools:
Ecotopia as a name or brand and our guidelines
Networking tools: mailing lists, our jitsi server and open collaborative documents
Facilmap app to organise your routes
Border situation update document (lets keep it updated for everybody!)
Page to share different local biketours and Ecotopia blog
Biketour stickers and the timeless poster (if you are interested in them, send us an email!)
For more info, visit the 2020 page.
And please stay safe and be aware of sanitary measures. Good bike!
Ecotopia Biketour is a self-organized, international community that has been organizing a yearly bicycle tour in different regions of Europe since 1990. During the tour we visit environmental and social projects and practice forms of activism and sustainable living. We cook communal vegan food, practice consensus decision making, and share skills by doing workshops. One of our core values is to create a non-discriminatory environment. Ecotopia Biketour is for anyone interested in travelling by bike, community life, DIY, an ecological lifestyle, and/or learning by experience. If this sounds good to you, feel welcome to join us!
Read more about what the Ecotopia Biketour is.
If you would like to get an insight into the organisation or just ask a question, write us via the contact form.


Yes, we have started planning the 2021 Ecotopia Biketour. At this moment we can't say how vagabond-friendly this summer will be but let's hope we can push the pedals together again! At this stage we are planning a winter meeting in March in norther Italy or Switzerland and we want everybody who is eager to organise it to be able to join it either physically or virtually. Since the current pandemic situation is going against the possibility to meet easily all together in one place we are considering also a hybrid kind of a meeting where people could meet locally…