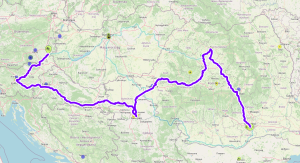 Yuhuuuu!
We have an approximate route!
The tour will start preparing its departure on the 26th of June in the village of Welten, Austria. We will officially start there on the 30st of June!
We will be then visiting the Balkan Anarchist Bookfair in Ljubliana (Slovenia) and then head towards Romania, passing through Croatia and Serbia. In Romania we will be visiting several projects, ending the tour in Bucharest.
In the first 4 weeks of the tour, we will be inviting all QINTAW people (queer, inter, non-binary, trans, agender and women) and ask endo-cis-hetero men to join from the 5th week of the biketour onwards.
We are super excited to bike in Eastern Europe. And we are still keeping our eyes open for projects, so if you know anything, drop us a message at 2023@ecotopiabiketour.net
To stay updated check out our Blog and/or subscribe to the mailing list at the bottom of this page.
---
Ecotopia Biketour 2022 – read more about the adventures we had on our Blog or here

---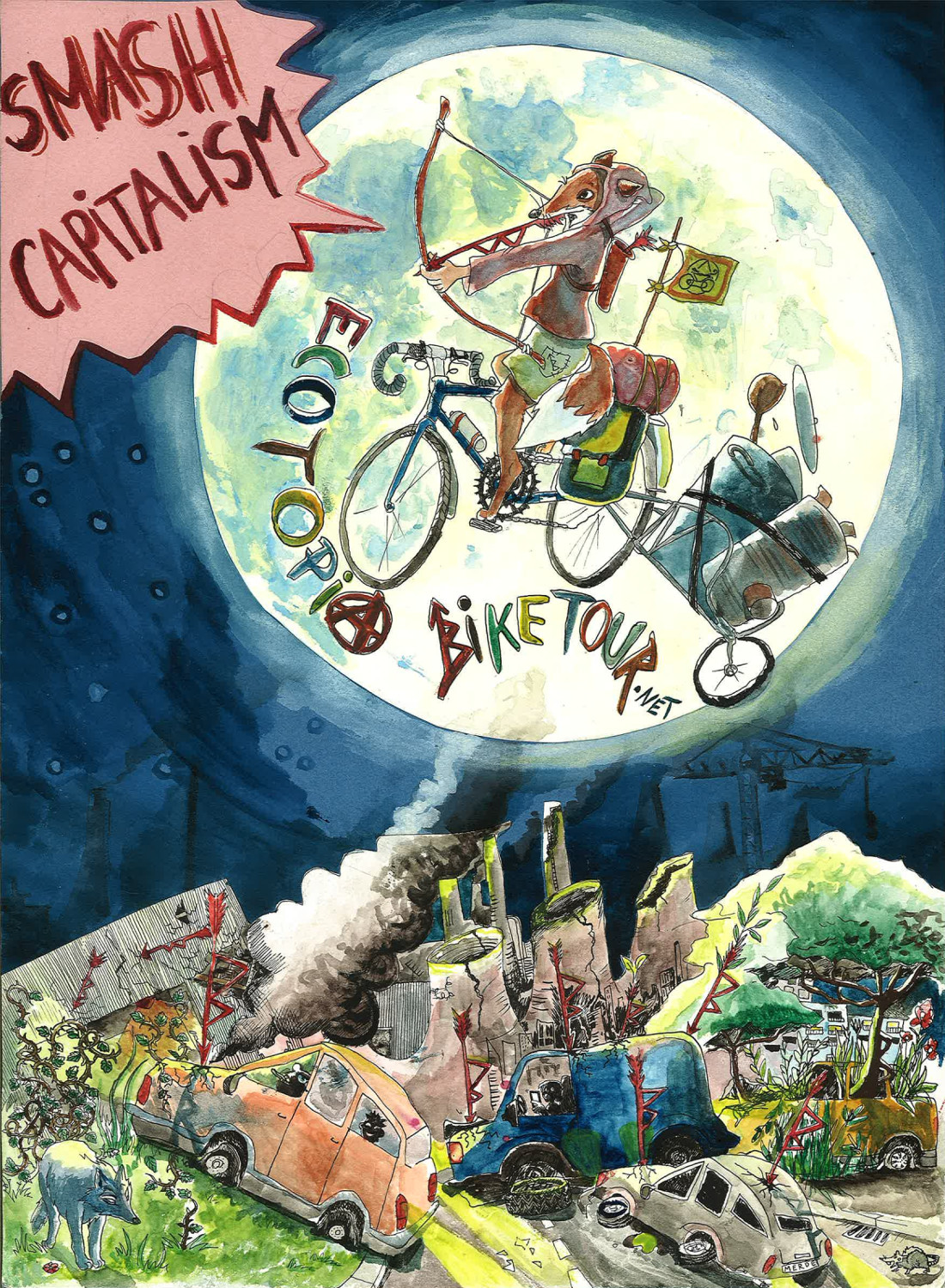 Ecotopia Biketour is a self-organized, international community that has been organizing a yearly bicycle tour in different regions of Europe since 1990. During the tour we visit environmental and social projects and practice forms of activism and sustainable living. We cook communal vegan food, practice consensus decision making, and share skills by doing workshops. One of our core values is to create a non-discriminatory environment. Participants are asked to give a voluntary contribution of 3–5 € per day to cover food costs, but if you cannot afford this you are welcome to join for free! Ecotopia Biketour is for anyone interested in travelling by bike, community life, DIY, an ecological lifestyle, and/or learning by experience. If this sounds good to you, feel welcome to join us!
We try to make the tour as inclusive as possible for any level of fitness or experience with bike touring. We cycle a maximum of 30–70 km per day (depending on the hills), and on average half of the days we stay in a place without cycling. Our experience is that almost everyone can manage this, but there is the possibility to shorten the distances if we discover that it is too much. People cycle in small groups or alone, at whatever speed suits them, and many people like to take it slow and take lots of breaks. A detailed route plan for the day is shared in the morning, arrows are drawn with chalk on the road at every turn, and if you get lost you can always call the Biketour phone. If you have a shitty bike, you will not be the only one, and we enjoy supporting each other if something breaks. We make sure that the last people to leave carry a toolbox, a phone and a first-aid kit in order to assist if anything goes wrong on the road.
Read more about what the Ecotopia Biketour is. If you would like to get an insight into the organisation or just ask a question, contact us.
*** feel free to share this post in your circles, platforms and communities! *** hellooo everyone! this is the *official* announcement of the ecotopia biketour 2023! the main region this year will be in romania. more route infos below. the orga has shrunk a lot since the winter meeting and we need your help with some stuff! first of all, REGISTRATION on our website is OPEN! you don't have to register. but if you do it helps us to know how many people we will be at what time. you can also give us some useful information there such as…