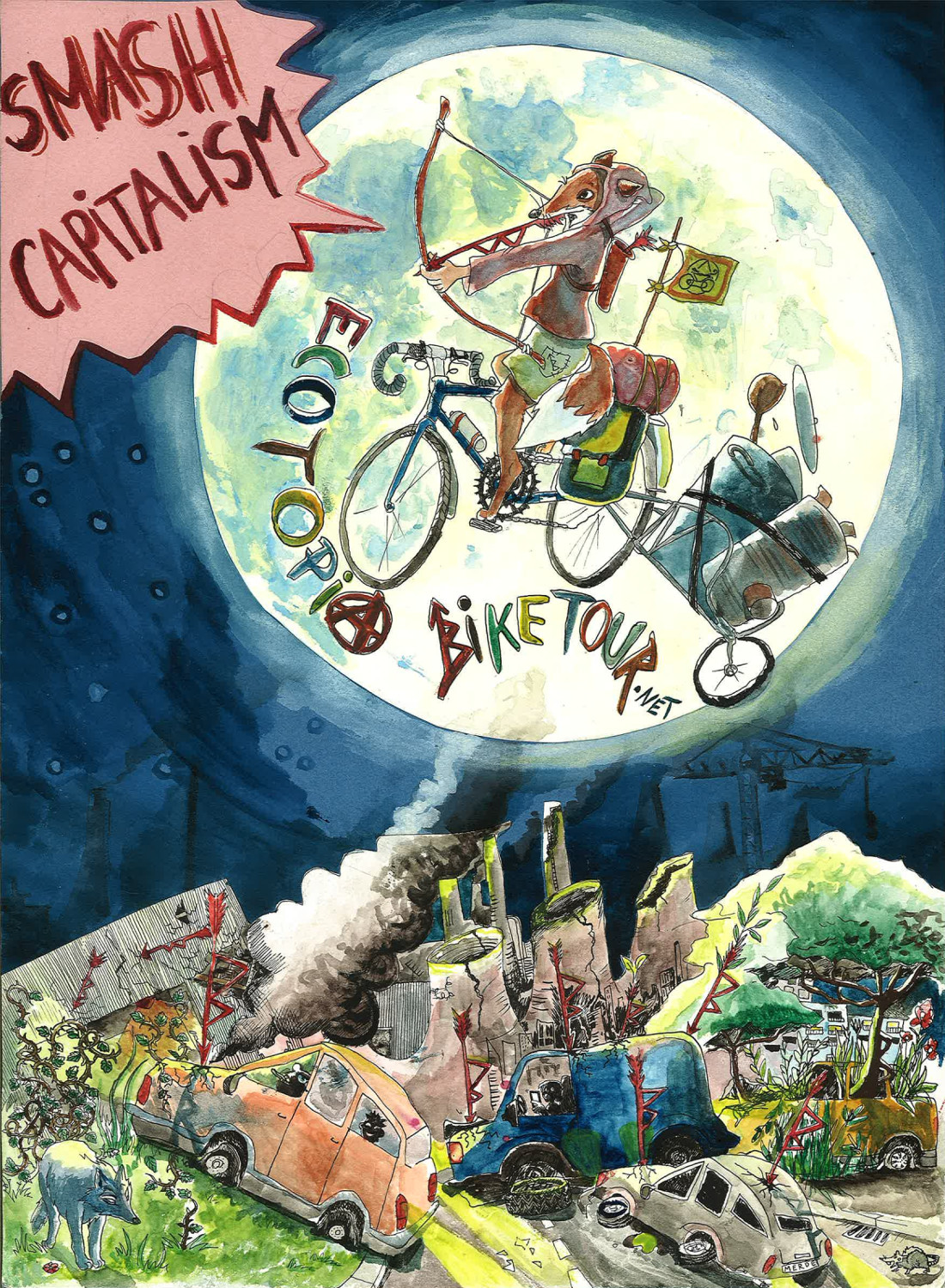 Our Winter Meeting will happen between February 20-23, 2020 in Freiburg. We will decide in which countries (central/southern/southeastern Europe) and which time frame the next tour will happen, discuss our values and how to implement them, create flyers, posters and stickers to advertise the tour, and have fun together! Anyone who is interested in meeting us and finding out how we organise is welcome to join.
If you want to join the meeting, please let us know beforehand by writing to 2020@ecotopiabiketour.net. During the meeting, we will be reachable by phone on this number: +49 157 84844802.
We are looking for interesting projects and events happening in summer 2020 in Central, Southern and Southeastern Europe. Based on the projects we find we will decide the exact region on the meeting in February. Any information is appreciated. Find out more here.
Ecotopia Biketour ist eine selbstorganisierte internationale Community, die seit 1990 eine jährliche Fahrradtour durch Europa organisiert. Auf der Tour werden soziale und ökologische Projekte besucht und verschiedene Arten von Aktivismus und nachhaltigem Zusammenleben praktiziert. Wir ernähren uns vegan, treffen Entscheidungen per Konsens und versuchen, unser Wissen zu teilen. Es ist einer unserer zentralen Werte, ein diskriminierungsfreies Umfeld zu schaffen. Die Biketour ist für alle, die am Fahrradfahren, gemeinschaftlichen Zusammenleben, Selbstorganisation, Nachhaltigkeit und praktischen Lernen interessiert sind. Mehr darüber, was die Ecotopia Biketour ist.
Bei Interesse und Fragen schreibt uns über das
Kontakformular
.
Bikes can be brought by bus and train. (Inter)national busses will charge 1 or 2 euro for it, just as with other luggage items. Drivers/conductors might have trouble with the bike (which takes too much space, is in the way while it's high season, etc.) It might be worth your while to go to the bus station some days in advance (if possible) to make sure the bus driver whos will drive the route, is prepaired to take your bike. On Serbian railway ticket for bike costs €10 euro, but over the border Macedonian conductors tend to make trouble about…
If you are looking for some advice how to get to us affordably, check out some resources at: the EYFA wiki. A participant made a group for the biketour on the Hospitality club, maybe it can be an aid during traveling.
De Ecotopia-Biketour Met welk milieuprobleem heb je als kind nu het meest te maken? Bij mij was dat in elk geval de auto. Auto's verstoorden voortdurend het buitenspelen en autowegen bedierven de naburige bossen. Fietsen, da's juist leuk. Het is dan ook geen wonder dat ik via een fietstocht in contact kwam met de milieubeweging. Jongeren Milieu Aktief heeft een paar keer een 'jongerenmilieufietstocht' georganiseerd. Met een grote groep in een grote sliert of blok van de ene naar de andere plaats, het rijden geeft al veel bekijks, en dan in de halteplaatsen acties, vaak in de vorm van straattheater,…