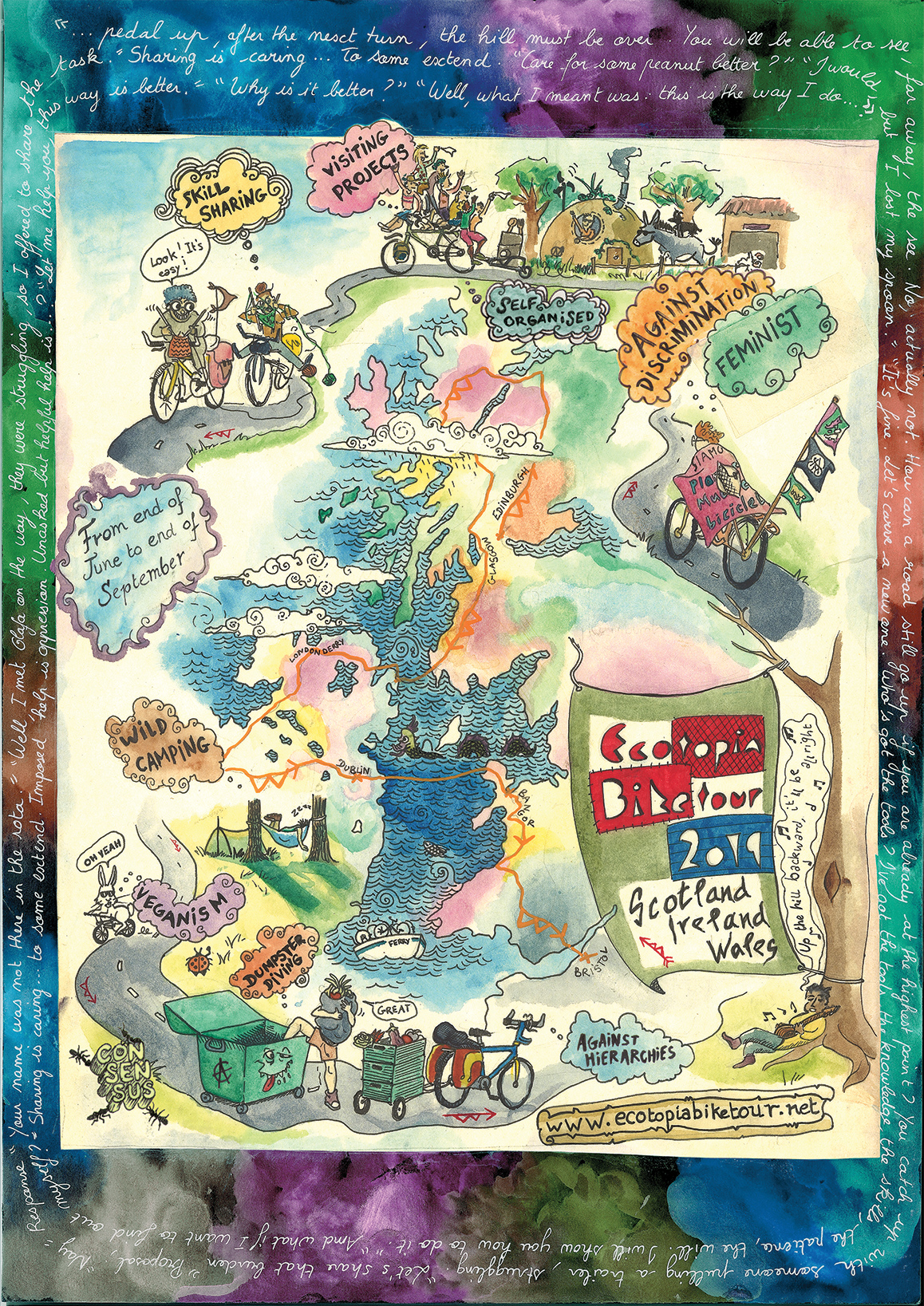 Ecotopia Biketour is a self-organized, international community that has been organizing a yearly bicycle tour in different regions of Europe since 1990. During the tour we visit environmental and social projects and practice forms of activism and sustainable living. We cook communal vegan food, practice consensus decision making, and share skills by doing workshops. One of our core values is to create a non-discriminatory environment. Ecotopia Biketour is for anyone interested in travelling by bike, community life, DIY, an ecological lifestyle, and/or learning by experience. If this sounds good to you, feel welcome to join us!
Read more about what the Ecotopia Biketour is.
The tour will be 3 months long in Scotland, Ireland and Wales. We will start in the end of June in Edinburgh and cycle in Scotland until the mid-August. We will continue in Ireland until the mid-September, ending in Dublin. Then the last part of the tour will happen in Wales until the end of September. Find more information on the route page!
If you are planning to join this year, please fill out our registration form.
You can reach us on the way by calling our communal numbers: +4915784844802 (international) or +447761361138 (UK).
Also if you would like to help or just to get an insight into the organisation, write us via the contact form.

It's 8am, 9am, or sometimes 1pm, when the Ecotopians open their eyes. In this country, no stifling heat propels them out of their tent at dawn. This piece of cloth becomes a morning shelter when the soft sound of the drops striking the roof echoes tirelessly. Despite this "flic floc" melody from the clouds and the resulting temptation to stay warm; body against sleeping bag or body against body; every morning their souls find the energy to face the greyness awaiting outside. Ziiiiip, the entrance opens, and the senses marvel. Their ears are glad to hear the voices coming from familiar…