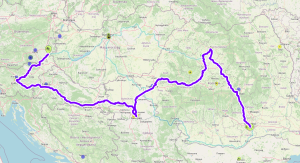 We have an approximate route!
The tour will start preparing its departure in the last week of June in the village of Welten, Austria.
We will be then visiting the Balkan Anarchist Bookfair in Ljubliana (Slovenia) and then head towards Romania, passing through Croatia and Serbia. In Romania we will be visiting several projects, ending the tour in Bucharest.
In the first 4 weeks of the tour, we will be inviting all QINTAW people (queer, inter, non-binary, trans, agender and women) and ask endo-cis-hetero men to join from the 5th week of the biketour onwards.
We are super excited to bike in Eastern Europe. And we are still keeping our eyes open for projects, so if you know anything, drop us a message!
See you soon,
Ecotopia Biketour