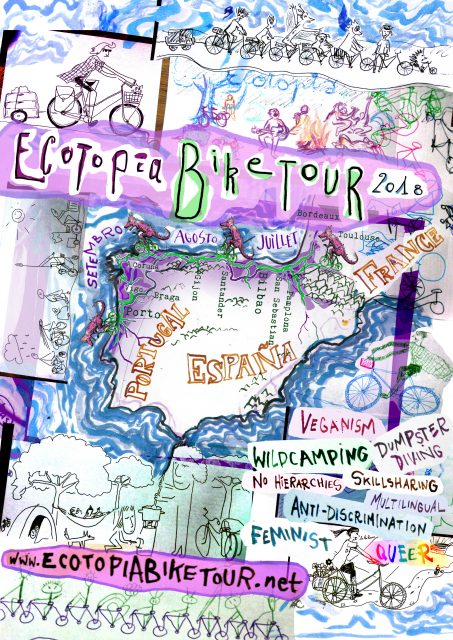 Ecotopia Biketour is a self-organized environmental and social activist bicycle tour that has been cycling through different parts of Europe each summer since 1990. On our way we visit social and environmental projects and groups, to learn about their struggles and visions, to exchange knowledge, to create connections and to support them by participating in actions or doing some physical work. Read more about what the Ecotopia Biketour is.
Ecotopia Biketour 2018 will happen in the north of Spain and in Portugal during July and August and possibly in September. Read and spread our call-out for projects and find out how to get involved.
On 19–23 April we will have our Spring Meeting in San Sebastián where we will (among other things) decide the details of the route.
Ne jemi Ecotopia Bike Tour, një grup mderkombëtar nga 11 vende, që qarkullojmë nëpër Ballkan. Qëllimi ynë ëstlitë të rrisim ndërgjegjësimin mjedisor. Elbasani ëslitë qyteti më i ndotur i Ballkanit Perëndimor. Kjo ndotje ka shumë pasoja për popullsinë këtu dhe shëndetin e tyre. Tre operatorë të mëdhenj, i çelikut, çimentos dhe ferrokromit shkaketojnë ndotjen me të madhe dhe nuk zbatojne ligjin mjedisor shqiptar.