Forgot your password?
Please enter the email address by which you registered your user account. Then press "Send password" and your password will immediately be emailed to you. Make sure to spell your email address correct.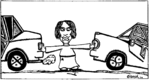 Ecotopia Biketour is a several weeks project for everyone interested in do-it-yourself "diy" environmentalism, culture, nature, community life, cycling and generally being cool the summer. The first Ecotopia, (our ecological utopian festival village which happens every year in a different part of Europe) was held in 1989 in Cologne. The Biketour didn't exist at that time, so the participants came by bus. They felt very uncomfortable with their unecological way of travelling to such a special place. They started looking for an alternative and (Can you believe it?) they came to the conclusion that the bike is still the most ecological method of transport. Slow enough to connect with nature but fast enough to feel you really are travelling every day. And we guarantee that it's the most exciting way of travelling to Ecotopia and beyond!

More about Ecotopia Biketour
Last updated: Thursday, June 29/2006
---