News: Does anyone want to bring kids to the tour this year ? Please send a mail to

Joao

because have a kids-trailor for 2 sweeties and wonder, if we should take it or not.

--- --- --- --- --- --- --- --- --- --- --- --- --- --- --- --- --- --- --- ---

In summer 2007 we will cycle in Spain and Portugal. We will start in Barcelona 1st of June, and we'll reach Ecotopia at Aljezur, Portugal at beginning of August and then maybe cycle on for a bit, continue to Africa or head back north ... We will visit "interesting placesTM" on our way: alternative, environmental, artistic projects and communities, nature monuments and people who preserve them or resist their destruction. We want to stay there for some days to have the time to exchange knowledge with the residents and prepare some actions. If you have contacts in the region or ideas, where to travel or whom to visit, do not hestitate to contact us!


Check out our for more information on how the tour works or dig our . Join our malinglist to get in contact with past and future participants.For some impressions of our trip 2007 see the fragments of the online diary or see some photos.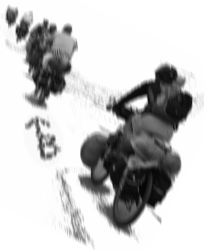 Ecotopia Biketour - the project for everyone interested in do-it-yourself "diy" environmentalism, culture, nature, community life and the art of travelling without motors - just the opposite of the all-inclusive flight to the beach. Moving all our stuff by sheer muscle power, we will create an eco-mobile community building up strong connections between participants coming from different scenes and groups as well as between them and our hosts.





Everything published on our websites is licensed under a Creative Commons License - unless stated otherwise.